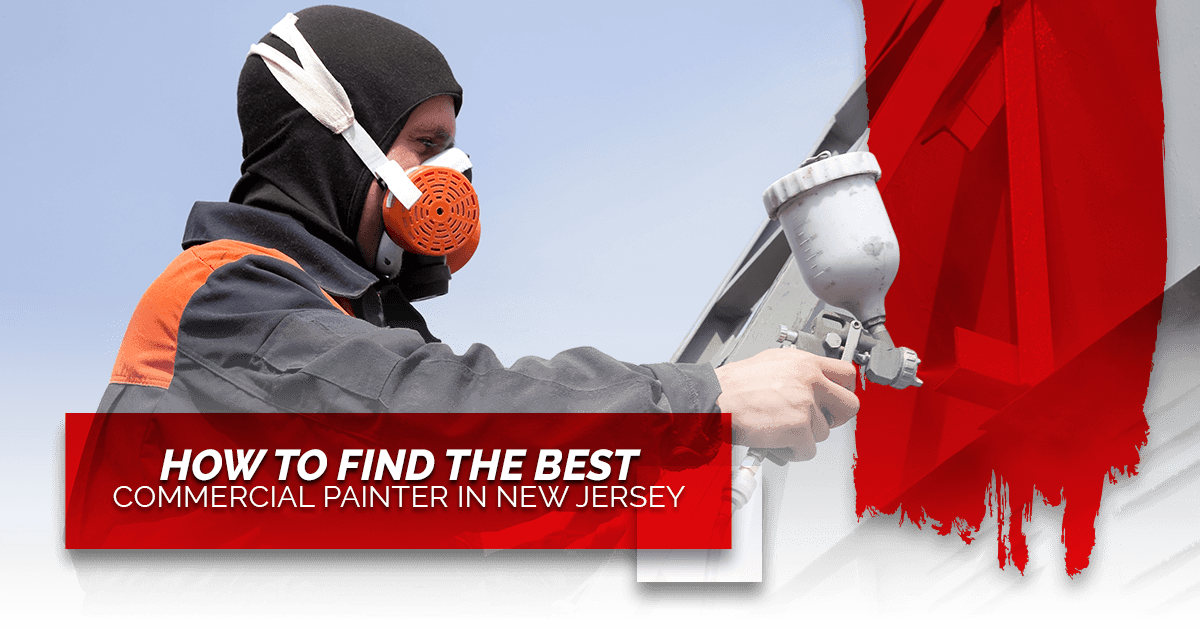 How to Find the Best Commercial Painter in New Jersey
As the owner of a business, when was the last time you looked at the paint on the facility's interior and exterior? The fact is that business owners rarely, if ever, consider the paint job of their business. This is where having a reliable

commercial painter

comes into the equation. For over 25 years, DJ's Painting in New Jersey has been making local businesses look their best. Our team takes the hassle out of painting projects with highly skilled and trained professional painters. Maybe you're thinking, "Sure, my business could use a fresh coat of paint, but why is it so important to hire the pros?" Here are just a few reasons why you should hire someone with experience:
They use only the best equipment

– A commercial painter requires much more than some paint and a brush. Those who have been around know that standardization and uniformity are critical to ensuring quality work. Having the best equipment allows painters to enhance the aesthetic and overall appearance of your space.

They get the job done correctly

– The last thing you want to do is hire a painting service that does less-than-quality work. Not only is it an inconvenience, but it's costly. That's why it's imperative the team you hire handles the project appropriately the first time. Far too many times, business owners hire non-professional painters who don't have the ability to apply a complicated color tint. Should coats not be applied evenly, there will be unsightly discoloration and mismatched spots. Again, you don't have the time or the money to remedy such a situation. At DJ's Painting, we know what it takes to make your business look like the first day it opened. You can feel comfortable knowing we are experts when it comes to interior painting/staining, exterior painting/staining, and more.

They save time

– We're guessing you don't have time to babysit a commercial painting service. When you hire professionals, you expect that the job will get done in a timely fashion. More specifically, the painters you hire should have a set timeline and deadline. It's on them to get the project done within that period as a sign of efficiency. The best painting companies are able to do high-quality work even when racing against time.

They save you money

– Think of hiring a commercial painter as an investment. Sure, you might be spending some money now, but it's certainly going to pay off in the long run. Imagine how much more appealing your business will look from the inside-out after a fresh coat of paint. Don't be surprised if you start getting more customers as a result. Of course, going with an experienced painter eliminates the need for costly touch-ups shortly after the project is completed.

They are more trustworthy

– Hiring inexperienced painters could expose you and your business to liabilities and theft. Why take a chance on a painting service that seemingly popped out of nowhere? Commercial painting contractors should be certified and have licenses to operate. As opposed to that sketchy business whose primary goal is to rip off customers, an experienced painting company will actually care about their reputation and do whatever is necessary to uphold it.  
---
Tips for Choosing a
New Jersey Commercial Painter

Now that you understand the importance of opting for a professional, let's get into some tips for finding that ideal painter. Here are our top five:
Ask around

– Before getting too far ahead of yourself, don't be afraid to ask other business owners if there's a contractor they recommend. Then feel free to gather information from friends and family. Even today, word of mouth is often the best way to find a well-regarded company.

Do online research

– This step may take the longest and for good reason. As aforementioned, you're making a significant investment when hiring a painting service. Make it a point to find a handful of potential options. Go through company websites and see if their services align with your project. Those who have been in business the longest should be moved toward the top of your list. It's important to check if the company has required licenses and insurance so that your business is protected in the event of a mishap. Then it's time to see what other people are saying about the company. Are there any alarming reviews? If so, you may want to cross that painting service off your list. In terms of extra things to look for, it definitely doesn't hurt if a company belongs to any national or local painters associations. This may seem extensive, but it makes the rest of the selection process so much easier.

Get estimates

– By now, hopefully, you've whittled down your options to three candidates. It's time to get a detailed estimate from each of them. One piece of advice here is to look extra closely at prices. One that's extremely high or low should warrant a red flag. "Why can't I just hire the cheapest paint service and be done with it?" This is a commonly asked question among business owners. It's reasonable, especially considering that you have other major expenses as well. However, a much lower estimate likely indicates lesser quality service. We can't emphasize this enough: don't just pick a commercial painter based solely on cost.

Ask questions

– This is when you should get those last-second questions answered. For example, it's a good idea to know if the company will subcontract the work or perform it themselves. Specify what the project entails and discuss your expectations. Set aside some time to walk them through the project site so they not only have the most accurate representation but so they can also provide a more accurate estimate. In addition, ask what products they will be using and if there are any guarantees that go along with the products. Once you have all your questions answered, you should feel comfortable finally making a decision.

Pay attention to the details

– Before any work is started, ask for a detailed written contract. It should contain information about site preparation/cleanup, the estimated timeline, and payment. If you're unsure about any area of the contract, ask for clarification. Should something go wrong during project completion, you will have to rely on the contract for protection. As tedious as it may be, double-check the fine print.
---
Mistakes to Avoid When
Choosing a Commercial Paint Service

Don't fall into the trap of hiring the wrong paint service. Here are the top five mistakes to avoid when making your decision:
Hiring an unlicensed contractor

– Should you hire an uninsured contractor, you are responsible for any accidents that occur. Believe it or not, many painters skate by without having the proper insurance. That's not how we do business, though. Our team at DJ's painting is completely covered to perform our outlined services.

Failing to communicate

– Communication is key when dealing with painters. Plenty of painting companies brush off the importance of communication, showing up to work on projects unannounced. We go the extra mile in ensuring that poor communication doesn't happen. This means discussing all aspects of a job beforehand. By doing so, we eliminate the potential for lost time and aggravation on your end.

Using a "one-man" painting service

– Don't fall for it. It may not seem like a big deal for one painter to be taking on your project at first. Frankly, though, your facility requires multiple workers in order to get the job done in time. At DJ's Painting, we boast a permanent staff of skilled, experienced painters. Business owners appreciate their our crews work straight through to completion, respecting your time and convenience.

Getting stuck with a "fly-by-night" company

– Anyone with painting equipment and a truck can pose as a professional. Unfortunately, many business owners and property managers fall victim to painters who are here today and gone tomorrow. There's no need to worry about that nonsense at DJ's Painting. We've been serving those throughout New Jersey for more than 25 years. It's safe to say that we honor our warranties and enjoy building long-term relationships with all of our customers.

Settling for substandard work

– This ties back a bit to the aforementioned hiring tips. Just because a company offers a low price on commercial painting doesn't mean you should hire them immediately. Of course, substandard work doesn't just have to do with the paint job. It's also about the little things. For example, many painters fail to clean up after themselves, leaving a mess for business owners upon project completion. Here at DJ's Painting, we've set the standard for quality work. There's no need to worry whether or not we will properly dispose of hazardous waste. We are proud to have some of the finest professional painters around. Each of them not only do top-notch work for customers but also go above and beyond.         

About Our Commercial Painters

---
There are countless professional painting services out there, so why choose DJ's Painting in New Jersey? Let's start with the fact that our staff has the knowledge and expertise to solve all of your coating issues. We have decades of experience painting thousands of commercial facilities in New Jersey and across the nation. DJ's is a company that started in a New Jersey garage in 1986 and grew to become a well-established brand among customers. Today, our team provides a level of service and expertise to clients that have not existed in the painting industry ever before. Let's look into just some of the services we have to offer:
Painting Services for Restaurants
When it comes to painting restaurants, there's no room for error. DJ's Painting has worked directly with nearly every national restaurant chain to ensure all buildings are painted in a way that's approved by the chain's corporate office. Whether it's McDonald's, Burger King, Chipotle, or another big name, our team has been relied on to perform outstanding work. Over the years, we've come up with a plan to minimize business interruption while still completing the project on time and on budget. We're proud to say that no other painting contractor in the area has such a detailed plan for a restaurant project.
Let's take a closer look at color scheme possibilities for McDonald's. Our painters only use a product specifically made for McDonald's. Not to mention, our account manager will ensure that the paint used consists of McDonald's approved colors. Franchise owners appreciate that the account manager works with them from beginning to end. When it comes to our commercial painting services, there are no surprises, gimmicks, or less-than-acceptable work.
DJ's Painting is ready to handle your next restaurant painting project.
Painting Services for Hotels
Is your hotel chain franchise in need of some serious painting? Then turn to DJ's Painting. Similar to restaurants, we've worked with just about every hotel chain franchise to be sure each building is painted using only colors approved by corporate. You can feel at ease knowing that our skilled painters will work within deadlines and specifications to complete your project in a stress-free manner.
There's no question that a fresh coat of paint adds beauty to your hotel. Guests will appreciate the updated look and be more likely to return for future stays.
Don't hesitate to come to us for your hotel painting needs.

Not Your Average Commercial Painter
We have been a Top Rated Local

®

painting service in New Jersey for years. You can count on us to solve all of your coating problems, from water penetration to exterior painting. Since we use the latest durable and fade-resistant paints, your facility will look incredible for the foreseeable future. But we aren't just limited to painting in what we do.  
Our services also include:
Waterproofing
Stucco Repair
Minor Carpentry
Drywall Repair
Caulking
Soft Washing
Pressure washing
Sandblasting
Floor coatings
And more
DJ's Painting wants to help transform your commercial space. From commercial painting and industrial painting to floor coatings and residential painting, we are ready to handle that next project. Contact us today to get started.